If there is one thing that covid-19 has taught us, it is that 'nothing is certain.' At that time these small-business ideas that have taught in this content would help. You never know when a pandemic will strike and turn the world upside down. The days of "waiting for the perfect time" are long gone.
Another thing that the pandemic fueled market has taught us is that 'financial safety is of utmost importance and a single income source may not be enough to maintain the quality of life that you desire.
Therefore, if you dream of starting your own business or small-business that provides both financial stability and creative freedom, now is the time!
Starting a small business not only allows you to pursue something you love it also helps you generate additional income, which can be especially helpful in these unpredictable times.
If you are not yet ready to leave your job and risk financial loss, you can start a side hustle alongside your stable job and slowly transition to a full-fledged business.
If you are ready to be your boss but unsure where to begin, here is a list of " 10 great small business ideas to help you achieve success in 2021 and beyond."
10 Great Small Business Opportunities
Offline Business Ideas for 2021
Medical Courier Service can be a Profitable Small-Business Idea
In the current circumstances, Healthcare is probably the only industry that is looking for hiring workers and expanding staff rather than cutting off expenses and dismissing the existing team.
So, why not become a small part of this colossal industry and use the opportunity to help the front-line workers and, of course, earn some money out of it! A great way to do that is to start a medical courier service.
This business focuses on delivering and transporting medical items like lab specimens, prescription drugs, equipment, etc. The best part about this business is that you only need a reliable vehicle, some extra time, and decent time management skills!
Professional Organizer
Are you someone who feels that cleaning and organizing are therapeutic? If yes, this a perfect small-business idea is for you.
In today's fast-paced life, the last thing people want is to spend their weekend decluttering and organizing their homes and offices. Here is where a professional organizer comes into play.
As an organizing professional, you help your clients by decluttering their space and making it more functional and comfortable.
You can start this business as a weekend job and later collaborate with other organized individuals like yourself and turn it into a business.
Home Caregiving Services
Studies show that more and more seniors and chronic disease patients prefer to receive treatment and care at their homes rather than a retirement home or an assisted facility, resulting in high demand for home care services.
Therefore, if you have a background in care and hospitality, you can begin caregiving services. This involves various services such as medication management, dementia care, assisting in daily chores, driving seniors to their doctors' appointments.
Food Truck
Do you love serving food and spreading smiles? If so, this idea is for you.
With indoor dining restricted in many regions due to Covid-19, the popularity of food trucks has grown significantly. Therefore, if you are an aspiring chef, a food truck might be the best choice for you. Food trucks require a lot less overhead than a restaurant and provide much more flexibility.
T-shirt Printing Business
If you have a knack for designing and fashion, along with spare storage space for t-shirt printing setup, you can quickly start a T-shirt printing business and sell those T-shirts online.
This kind of small-business requires minimum investment and offers excellent earning potential.
Online Businesses Ideas for Small-Business 2021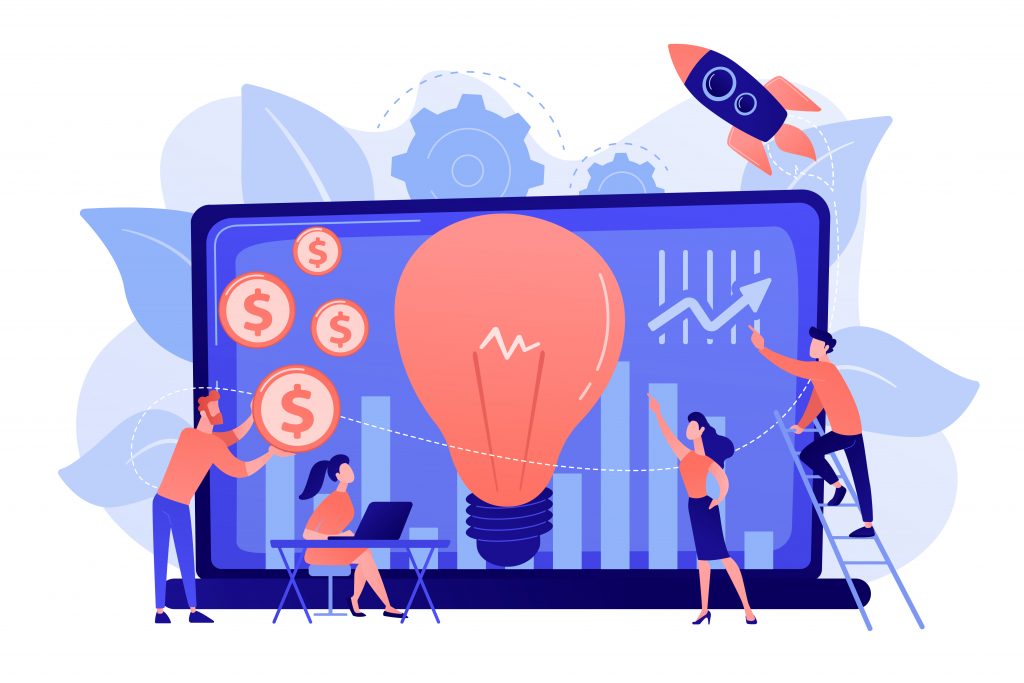 Why not Virtual Consultant as a Small-Business Ideas
Do you have expertise and years of experience in a specific niche such as marketing, social media, HR, finance, etc.? Then why not monetize it? To utilize these skills, you can start an online consulting business single-handedly and later expand it by hiring other consultants.
Online Clothing Reseller
Who said you need a dedicated storehouse or a shop for selling clothes. To establish a clothing business, all you need is time, dedication, and, of course, a great sense of fashion! This is also a great side hustle option if you are not ready to leave your full-time job yet.
Freelance Writing & Designing
Thanks to digital evolution, the demand for content writers and graphic designers is increasing every passing minute. If you have your way with words or the artistic streak for designing visually appealing posts, you can start freelancing in content writing or designing. It is an excellent source of inspiration and income and allows you to control your working hours, payment structure, etc.
Online Tutoring
Whether you are a musician, literary whiz, or maths expert, many people out there need your help and are willing to pay for it. Start by working with reputed online academies, gain the clients' trust and some tutoring experience, and later, you can commence your independent tutoring business.
Digital Marketer
The importance of establishing an online presence for businesses is growing every passing day, and this is the demand for digital marketing.
Suppose you specialize in any digital marketing aspects such as SEO, social media marketing, pay-per-click, etc. In that case, you can have a business that provides you with an opportunity to work with both national and international clients.
You can start as a freelancer and gradually establish a digital marketing agency by collaborating with other experts.
Conclusion
No matter what business you choose, it will demand lots of creative small-business ideas, hard work and push you out of your comfort zone, especially if you are starting. Despite the hard work and the risks, being your own boss is far more rewarding than challenging. If you've decided to take control of your own future, why wait? The time is now!